iQ Trivia began in Canberra and now we've got show in Sydney, Goulburn and the Central Coast too. Our guiding principle is that a good trivia question is one that gets you talking with your friends.  Whether they're right or wrong, we want players engaged in interesting questions.
Origins
At our first venue we built up a core of regular trivia players on what was otherwise a quiet night. On big nights we had over 100 in a relatively small venue.  All of them spent money and most wound up having dinner.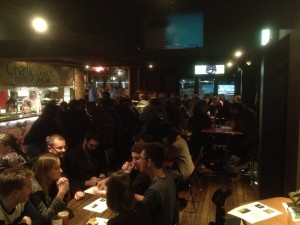 New trivia nights take time to build up, but with consistency and promotion we can achieve similar results.  We promote our shows on social media (as do individual venues), and list them on trivia websites that list the best independent trivia shows.
Format
The format is two rounds of 20 questions. We mark answers at halftime so people know how they're doing and can order another round of drinks. The questions cover a broad range of subjects.  There are picture questions, audio questions, and bonus questions, where we ask a question and the first team to write down the correct answer and show it to the host wins a small prize or a bonus point.
There's a homework question on each quiz, which teams can look up before the show for easy points. We e-mail players a reminder of the quiz and the homework question each week. Teams also get a bonus point for their team name, provided it fulfils criteria that are announced every Sunday on social media and the website.  All this aims to encourage regular attendance.
How iQ Trivia is Different
We differ from other trivia outfits in the kind of questions we ask.  There will be questions we don't think anyone will actually know, but that they can figure out.  We ask questions that are designed to get people debating with their friends rather than questions people will either know immediately or have no idea about.
Points are sometimes given points for particularly interesting wrong answers.  That way, if people don't know the answer, they can have some fun with it.  We tell people that if you're going to be wrong, be wrong with style!
The whole quiz takes about two hours. We maintain a steady cadence of questions so people have time to think but don't get bored. Hosts generally hang around for a while afterwards to talk to regulars, as the more engaged the host is, the more fun everyone has, and the more likely players are to come back.
Costs
A standard weekly iQ Trivia quiz hosted by one of our professional hosts costs $270 per show (plus GST). If you want a customised quiz, we can arrange for to custom questions for an additional fee.
A standard one off show for corporate events, fundraisers, or parties hosted by one of our professional hosts costs $370 (plus GST). If you would like a customised quiz with questions tailored to suit your audience, we can accommodate you for an additional fee depending on how specific your requests are.
Overall, the cost is considerably less than other trivia outfits for Australia's most interesting trivia.